Wand! MAKE MY ZOMBIE GROW! - Attack On Titan Season 4
Updated: Jul 13, 2022
-WARNING: THIS IS ABOUT ATTACK ON TITAN. I HIGHLY RECOMMEND THAT YOU DON'T SHOW ATTACK ON TITANS TO YOUR KIDS. IT'S VERY BLOODY. RIDICULOUSLY BLOODY. IT'S BLOODY BLOODY ALRIGHT!?-
Why were we afraid of zombies? Why aren't we afraid of zombies anymore? We've just seen it happen too many times: Zombieland, Z Nation, Dawn of the Dead, etc. Even the Walking Dead is about to end after 11 seasons. Zombies are dead to us! We just know what to do now: Work on your cardio, shoot some zombie heads, find defensible fortifications, secure supplies, and form a community. Bring a copy of Ryan North's How to Invent Everything: Rebuild All of Civilization (with 96% Fewer Casualties This Time) and you're pretty set! Go West, my friends, manifest that zombie slaying destiny.
Unless your zombies are gigantic monsters who are big enough to swallow you whole…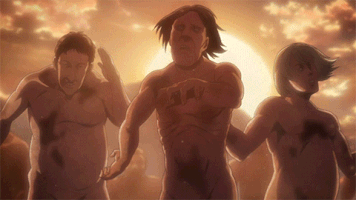 and still swarm anyway.
The Titans in Attack on Titan are truly terrifying beings. They don't make us aware of our mortality just because they kinda look like us, but because death is always imminent. You thought Game of Thrones was bloody? The author of Attack on Titan tries to kill everyone you love, everyone you like, and everyone you've flagged as complicated on Facebook. Seriously:
even the Main Character.
Honestly? The morbidity of it all is fascinating. The humans here have done everything right. They've got three fifty-meter walls worth of defensible fortifications and enough farmland within them to feed everyone. They've got the community part down too: Beer, religion, police, etc. They even know how to kill titans! (back of their neck instead of blowing out their brains but same thing really)
And they're all doomed anyway. Not even Ryan North could save them from those 96% casualties. This isn't a feel-good story. No one gets plot armor. You see everyone experience their final moments at least once. The odds are overwhelmingly against them. The zombie themes are established pretty early on and, whereas we got used to them, the monumental might of these monsters you measure in meters makes them all live again!
But the anime isn't called Titan Attack. It's called Attack on Titan. It is, as all apocalyptic scenarios are, about fighting back against the impossible. We cheer for the underdog. We find strength in knowing that David can kill Goliath. We root for Charlie Brown every time he kicks even though we know Lucy is always going to take it away at the last second. We know Sisyphus deserves to push that boulder to the top of the mountain.
So will he make it? Will humanity survive? Does humanity even deserve to survive? What makes a monster a monster? These are all questions we ask while we watch Attack on Titan, and many more since we've had more plot twists thrown on this story than we've even got in a game of Danger!
Attack on Titan has finished its final season. Wrapping it all up is a titanic task in and of itself but Hajime Isayama has shown his mastery at the craft and I am confident that he is up to the challenge. We may, in any case, need to know soon as one never knows when they might be...